In the real estate industry, one of the most common topics of discussion and debate is lead conversion, particularly when dealing with leads generated online. Agents may vehemently defend this method or that piece of software. But many forget to return to the fundamentals of real estate lead conversion and to reexamine the systems they have in place for capturing and nurturing leads.
In Episode 30 of #OfficeHours, we examine the Superstar Lead Conversion Playbook and the 3 S's of Lead Conversion. Catch what you missed from the episode below.
Now let's take a look at the fundamentals of real estate lead conversion, including the 3 S's. Once we have those basics covered, then it's time to invest money into lead conversion tools and strategies.
Back to the Basics: The 3 S's of Lead Conversion
Breaking down real estate lead conversion into three S's is a simple way to remember a critical component of your sales funnel.
These are the 3 S's of lead conversion:
Sources – Where buyers are coming from. To maximize sourcing, you need to know where your leads are coming from and establish a strong, authoritative presence in those places.
Speed – The importance of responding quickly to communications with leads. It's not always about having the perfect script or even being the best real estate agent for the job.  Being first and fast is more important than being best.
System – The tools and processes that convert leads to sales, from initial contact through follow-up communications to the sale itself.
When it comes to real estate lead conversion, it's critical to nail down these fundamentals first before investing money into other technology, software, or personnel to your business. Let's break down each S and how they work together to generate and convert leads for your real estate business.
Sources
Understanding where your leads are coming from is critical to maximizing lead sourcing in general. It's only detrimental to you—and helpful to your competition—if you are not established, or at least present, on the main platforms where leads are first able to connect with you.
Whether you're a top agent in your area or a newly licensed realtor just starting out, about 50% of your leads on average will come from your friends, family, and sphere of influence. Always focus on the people who know you best. These are often some of the easiest leads to capture and nurture due to your proximity to or shared connection with the lead.
But where do the other 50% of leads come from? Picture for a moment what happens first when someone decides they want to buy or sell their home. More often than not, they pull out their smartphone or hop on their computer and start searching for listings and other information relevant to the homebuying or selling process.  This will generally require an SEO agency to organically rank on Google.
So where are your leads going when they first embark on this real estate journey? And is your sales pipeline configured to effectively and efficiently siphon leads from those sources?
When it comes to real estate, agents tend to pull leads from four main sources. These include more general search and social platforms like Facebook and Google as well as real estate-specific sites like Realtor.com, Zillow, and Trulia.
4 Key Sources for Real Estate Leads
Facebook
Google
Zillow/Trulia
If you're generating leads from these sources, the next step is to determine whether they are good leads and how you should follow up with them. Marketing analytics can help you determine which platforms work best for your particular business and community, and you can adjust your efforts to have a more established presence on whichever platforms generate you the most and strongest leads.
Speed
Once you know where your leads are coming from, the next step is to ensure that you are responding to them with whiplash-inducing speed. As a general rule, if you get a lead, your goal should be to respond to almost any communication within 5 minutes. If not, you may miss your opening to jump on this lead before your competition does first.
Imagine the mindset of a potential homebuyer when they first enter the buying cycle. They may go to Realtor.com and click a listing, but when do they want to set an appointment to see that house? In many cases, right then and there, while they're thinking about it. So if you don't respond to that lead within 5 minutes, you could be missing a promising opportunity, and that customer may move on and funnel into the next (Read: faster) agent's sales pipeline.
Consider this stat: If you respond to a lead in 30 minutes versus 5 minutes, you have a 100 times (100x) worse of a chance to convert that lead. Usually, you'll lose the lead because another agent followed up with the lead first, or because the lead stopped the search or lost interest for whatever reason.
In short, if you respond within 5 mins, regardless of what exactly you say, you will have a significantly better chance of capturing that lead. Speed is one of the most important pieces of this lead conversion formula.
But with that speed must also come a sense of patience and understanding about where your lead is in the buying cycle. That lead could be several months from actually being ready to pull the trigger on what is a massive, life-changing decision. That doesn't mean the lead isn't of high quality—you just need to nurture that lead until they are ready to move forward.
That's where the last S comes in.
System
Once you know where your sources are coming from and have addressed the speed with which you respond to them, it's time to develop an internal system for collecting, organizing, nurturing, and eventually converting leads.
Without an effective system in place, your leads might be good, but you may not be responding fast enough. Or they might be a great lead, but they're not ready just yet, and you lose track of the lead over time without a system for following up.
The main goal of this system is that when your lead is ready to pull the trigger—whether that's in 5 minutes, 5 days, or 5 months—you need to be there. Your job is to be present and to be the authority and expert when that time comes. Your system shouldn't push the natural progression of that timeline and should always nurture rather than force or pressure your leads too hard. But it should also have enough follow-up built into it that those leads don't run cold.
The first step in building your system is to create a database that you can feed leads into so you can later follow up and convert those leads into sales. Rather than investing in complicated tools or software, you can much more quickly, easily, and inexpensively create a simple database using a Google spreadsheet or Microsoft Excel spreadsheet, should you already have it or similar software. This allows you to funnel the leads from your key sources into one organized, searchable, and sortable database.
The database is a critical component of your lead conversion system, and without it, you'll be left without a reliable system to follow up and nurture leads.
This system will also help with speed. As real estate agents, it's easy to get in the habit of telling clients, "I'm available 24/7." Well, unless you're a robot or the Terminator, that's actually impossible. But, with the right system in place, you can determine when leads are shopping and browsing online.
If you know the most common times of the day and week when current and potential leads are most likely looking at houses, your system will enable you to respond within that critical 5-minute window. Bottom line: Unless you are bombarded with leads, you have time to respond within 5 minutes, whether through text, email, or any other channel.
Now, you may be considering investing in certain technology, real estate website, software, or even personnel as you develop this system. But before spending any money, I encourage you to invest time and effort instead. Then you become the system of follow-up. Build a personalized, user-friendly database. Keep up with tracking and nurturing your leads. Analyze your marketing metrics, and continue to always optimize your system. Then, you can become a lead generation monster.
Eventually, this lead conversion system will work so smoothly that you are overwhelmed by the number of leads coming in. And that's a good problem to have. Only then should you consider investing money into technology, software, or personnel that can increase in your lead conversion rate. Then, you can also become a lead conversion monster.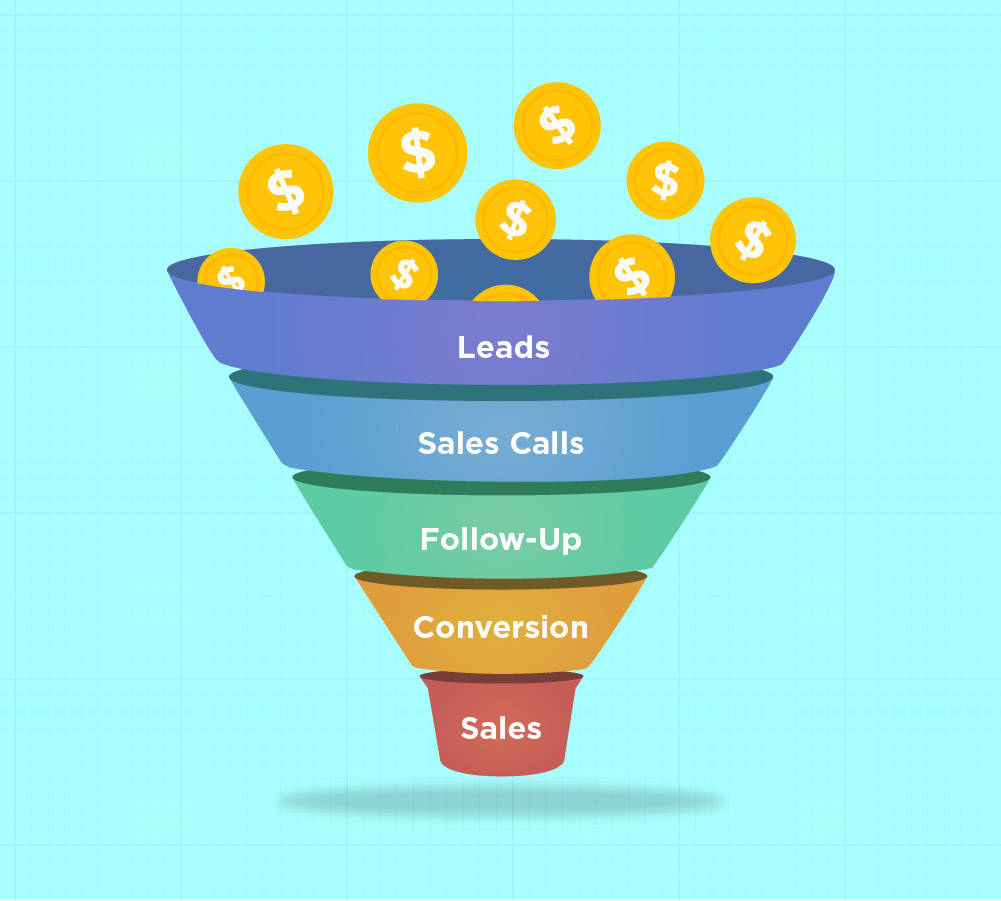 But the fact is, most of us don't have that problem—yet. We have a systematic problem. Where are the leads coming from, and how are we nurturing them over time? Until we can answer those questions and build an effective system in response, lead generation and lead conversation rates will stagnate.
The ultimate goal of this lead conversion system is to capture leads online and take them offline. After generating leads through search engines or an email, the next step is to schedule a viewing, grab a coffee, or otherwise meet face-to-face.
Your sources and speed, as governed by your internal lead conversion system, will ensure you get to the point where you can create that personal touch and actual relationship with leads. Because it ultimately is that personal touch and sense of relationship or partnership that contribute to a higher, healthier real estate lead conversion rate.